English don't have much in the way of firearms protection from burglars in the home. But an air rifle can be an exception. Gary Holmes, who was at home with his girlfriend and child, spotted a man prowling around in his home's garden area. He went upstairs for a better look and saw 20 year old Lewis Patterson break a window in his home with a baseball bat. He hit the window hard enough to break the bat. Then the burglar used a metal bar to complete his entry.
When Holmes got downstairs, Patterson was trying to get the homeowner's motorbike out of the house. Aware of Britain's restrictive home defense laws, and the consequences of shooting a burglar, Holmes just showed Patterson that he had an air rifle. He yelled at the man to leave and gave him a chance to leave. That was when Patterson raised the metal bar and came at the homeowner.
Holmes responded,raised his air rifle, and shot the man.
The man then picked up a brick and threw it at Holmes. What he didn't know was that the homeowner's air rifle was a bolt action repeater. Holmes reloaded and shot the man again.
Patterson ran away. In an effort to get Holmes arrested, he called police and told them that he was shot as he walked by the Holmes residence. What he didn't know was that Holmes had already called police to report the break in. The responding police didn't know who they would charge when they arrived, but an investigator who arrived later charged the home invader since he threatened Holmes. Even though the man had broken into the home, Holmes could have been charged for the shooting if the burglar had not threatened him.
Ralphie
: I want an official Red Ryder, carbine action, two-hundred shot range model air rifle!
Visit our other blog:
secondamendmentfreedom.blogspot.com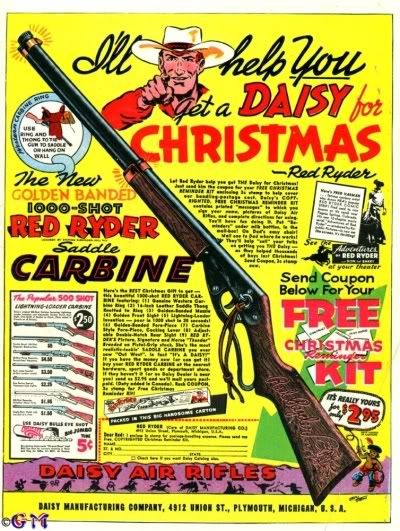 LONDON'S MOST WANTED